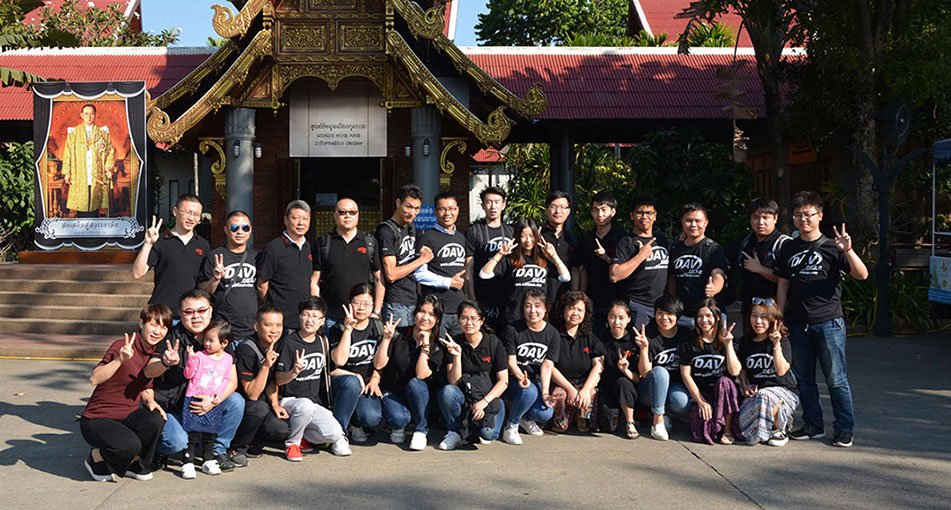 ---
Trip to Chengdu on Dec.19th~26th 2015
As the saying goes:" once you come to Chengdu ,you do not want to leave ."I understand the meaning,but no personal experience,I am not sure.Companies organize a trip to Sichuan, I was very excited, imagining Sichuan environment along the way.
According to historical records "Chengdu was built into a city with one year's effort. And then,it became the capital the next year." In Chinese, Chengdu literally means "the becoming capital".
Nowadays, Chengdu as a metropolitan in the western region is famous for its booming economy.In fact,its glory could be traced back long ago. As early as western han dynasty, Chengdu with the population of 350000 was listed as one of the most flourishing cities together with luoyang linzi handan yuan.It was in tang dynasty that yanghzou was the most prosperous city while chengdu was in the second place. At that time, the long famed brocade in chengdu was booming with the developed economy together with paper, silk, porcelain and the lacquer ware production.In 1023 Ad in the song dynasty, a special administration was set in Chengdu to regulate jiaozi the earliest currency issued in China.when Marco polo, an Italian businessman, arrived in Chengdu in yuan dynasty,he was deeply impressed by the prosperity and richness, which had been described vividly in his book,travels.
The famous cultural city, chengdu,is not only known for her history of more than 2300 years, but also noted for its leisure life style. Chengdu portrays itself as the eden of the east, for it is associated with leisure affluence and romance, just like the orifinal garden of eden of biblical reputation,leisure is definitely the true color of the city.
On a fine day, one can go to a plain tea house, find a bamboo chair,lie on it in the most comfortable position and order a cup of tea. You can half a dozen newspapers and flip through the pages as you like. You might doze off in all the comfort. You might slop tea while watching tea art or various performances, such as the breathing of fire or acrobatics.
The leisure and idleness of chengdu is also reflected in various local snacks.The snacks are delicious yet inexpensive,and a food break is a good way to kill time. After dusk in the summer, the native like to go out to sit on the dikes of the Funan river to drink beer,eat snacks, and enjoy the slow pace of life.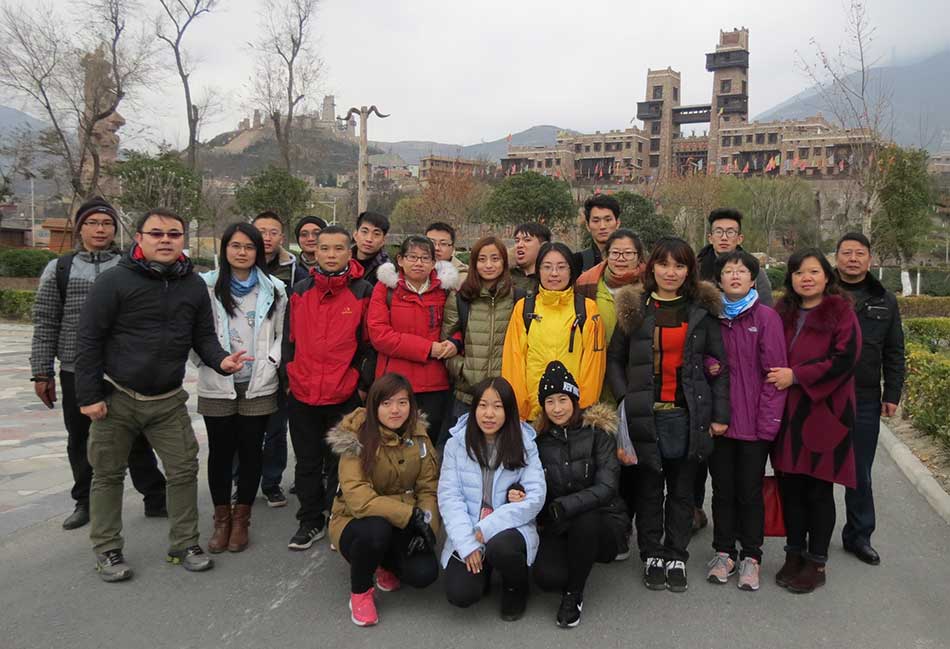 ---
Trip to Mountain Qiling on June 6th,2015 Yangjiang Branch office
Outside working hours, we also organize recreational activities sometimes. On Jun 6th, 2015, our teamates in Yangjiang branch office launched a group activity once again. When the sun rose slowly in the morning, everybody had already standing at the rendezvous waiting for another relaxing trip. We came to Yunfu city Large cloud mountain, there were mountains and water and sunshine here, certainly, we were very happy. We had a rafting in Shuanglong Gorge, and every two people in a Kayak. Boss also paid attention to each person's distribution. We rowed in the lake, relaxed and happy. And the relationship between colleagues was better.
We not only relaxed ourselves, but also learned the spirit of cooperation throngh every group activity. Whether in work or in life, teamwork can play a better. We should cooperate to create higher benefits for the company.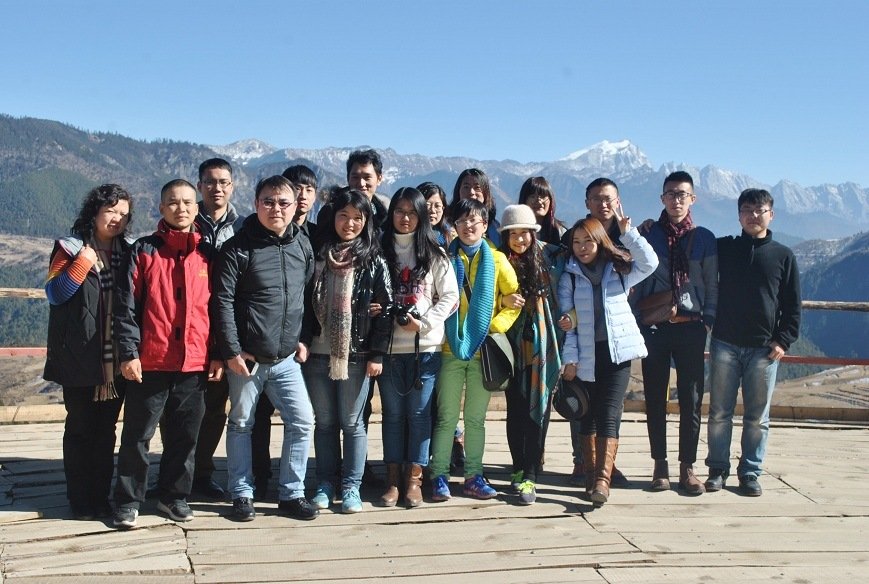 ---

Trip to ShangriLa on Dec. 22nd 2014
On Dec.22nd 2014,our family,all teamates,came to Lijiang for a relaxing trip. Lijiang is a beautiful shining jewel on the Northwest Yunnan Plateau neighboring the southeast side of the Tibetan Plateau which is considered to be the "Roof of the World". It is impressive because of its scenery and lush vegetation.
Lijiang boasts of breath-taking wonderful sights such as Jade Dragon Snow Mountain and its modern maritime glacier, the only one of its kind in the southern end of the Northern Hemisphere; Tiger Leaping Gorge; the world - famous grand canyon; Lugu Lake, the cultural cradle of the "Matriarchy" of the Yongning Mosuo people in Ninglang.
Lijiang Town is officially called "Dayan Town"-- "Dayan" literally means a "great inkstab", a graphic description of the town's location on a piece of rich flatland fed by a river and surrounded by green mountains. There is no other town in China like Dayan which incorporates the folkways of so many people and the architectural styles of both north and south China.
The people of Naxi, while developing their land of snow-clad mountains and turbulent rivers since ancient times, have to their credit the "Dong Ba Culture" seen as one of the world wonders, a culture all-embracing while unique.
All these natural sceneries and these cultural treasures of the minority peoples have been continuously drawing tourists from all over the world and have recently vote Lijiang as one of the favorite destinations in China.
Through this trip,the awareness of Lijiang is more and more profound. We also begin to admire this small city has condensed so many legends!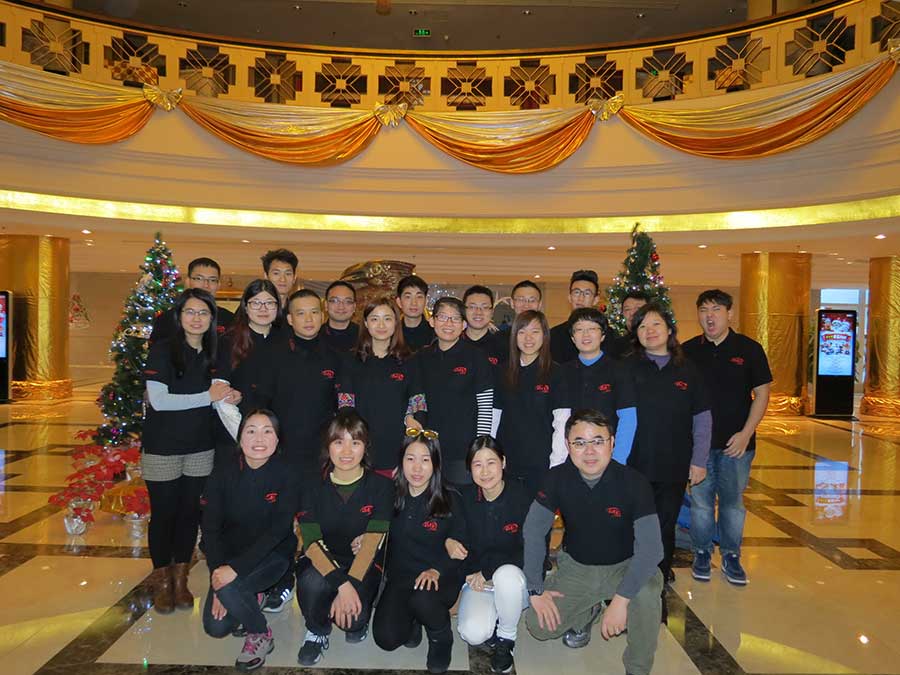 ---
Trip to Xiamen City on Dec. 21st 2013
On Dec.21st 2013, during Christmas Day, our teamates visited to Xiamen. Our boss once told us that Xiamen is a beautiful city that worth of visiting. We stayed there for a week. We lived in a small fishing village. On the first day, we visited to Xiamen University and Nanputuo Temple. Xiamen University is considered as the most beautiful and romantic campus in China. Indeed, it's fantastic and its buildings are distinctive. On the second days, we enjoyed the scenery of Jimei District. On the third day, We visited to Gulangyu. It's amazing and everybody likes it very much. There are many small specific stores. However, the huge tourist visitors make the small island crowed. Anyway, it was a pleasant trip.